MY SILVER CREEK
Keep it Safe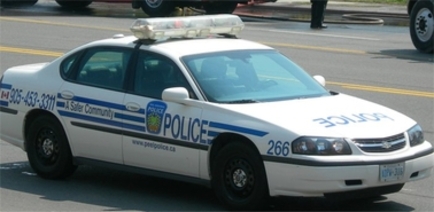 (Image © Anabela Guerreiro)
Our men and women in blue working for
... a safer community
The above cruiser is part of the old fleet. The new 2008 Dodge Charge cruisers are beautiful. Watch...
---
Peel Regional Police Officers on my
Thank You List
- Sean Piper
- Constantine Christidis
- Buddy Brown
- Christine Ross
- Brad Rutz
---
Headquarters
7750 Hurontario Street
Brampton
905-453-3311
TDD Line (for hearing impaired): 905-451-1196
Information about our Community Station
(12 Division)
3461 Dixie Rd (High Point Mall)
Mississauga
N/E corner Bloor/Dixie
Phone: 905-453-3311 Ext.1260
Fax: 905-456-5841
Email: 12div.communitystation@peelpolice.ca

Hours of Operation
7 days a week:
10:00 a.m - 8:00 p.m.
To find out more about the services our Community Station provides, follow this link:
http://www.peelpolice.ca/Communities/12%20Division/Bloor.aspx
Below are other Non-Emergency Numbers for Peel Regional Police
Divisional Police Stations - Mississauga
11 Division
3030 Erin Mills Parkway
905-453-3311 Ext. 1100
Email: 11div.communitystation@peelpolice.ca
Airport Division
2951 Convair Drive
905-453-3311 Ext. 3100
Email: airport.inspector@peelpolice.ca
Community Police Stations - Mississauga
Bloor Street
3461 Dixie Road
905-456-5841
Email: 12div.communitystation@peelpolice.ca

Clarkson
2057 Royal Windsor Drive
905-456-5820
Email: 11div.communitystation@peelpolice.ca
Hours of Operation (as of March 7, 2008):
Monday: 8:00 a.m. to 8:00 p.m.
Tuesday: 10:00 a.m. to 8:00 p.m.
Wednesday: 10:00 a.m. to 8:00 p.m.
Thursday: 8:00 a.m. to 8:00 p.m.
Friday: 8:00 a.m. to 8:00 p.m.
Saturday: 8:00 a.m. to 8:00 p.m.
Sunday: 8:00 a.m. to 8:00 p.m.
Cooksville
3038 Hurontario Street
905-306-8222
Email: 12div.communitystation@peelpolice.on.ca

Erin Mills
3476 Glen Erin Drive
905-456-5818
Email: 11div.communitystation@peelpolice.ca
Hours of Operation (as of March 7, 2008):
Monday: 8:00 a.m. to 8:00 p.m.
Tuesday: 10:00 a.m. to 8:00 p.m.
Wednesday: 10:00 a.m. to 8:00 p.m.
Thursday: 8:00 a.m. to 8:00 p.m.
Friday: 8:00 a.m. to 8:00 p.m.
Saturday: 8:00 a.m. to 8:00 p.m.
Sunday: 8:00 a.m. to 8:00 p.m.
Lakeshore
268 Lakeshore Roard East
905-456-5840
Email: 12div.communitystation@peelpolice.on.ca

Malton
7205 Goreway Drive (Westwood Mall)
905-677-3534
Meadowvale
6677 Meadowvale Town Centre Circle
905-858-5970
Email: 11div.communitystation@peelpolice.ca
Hours of Operation (as of March 7, 2008)
Monday: 8:00 a.m. to 8:00 p.m.
Tuesday: 10:00 a.m. to 8:00 p.m.
Wednesday: 10:00 a.m. to 8:00 p.m.
Thursday: 8:00 a.m. to 8:00 p.m.
Friday: 8:00 a.m. to 8:00 p.m.
Saturday: 8:00 a.m. to 7:00 p.m. ( Mall opens at 8:00 a.m. and closes at 6:00 p.m.)
Sunday: 8:00 a.m. to 7:00 p.m. ( Mall opens at 8:00 a.m. and closes at 6:00 p.m.)

Square One
100 City Centre Drive
905-456-5839
Email: 12div.communitystation@peelpolice.on.ca

Streetsville
85 Queen Street South
905-456-5815
Email: 11div.communitystation@peelpolice.ca
Hours of Operation (as of March 7, 2008)
Monday: 8:00 a.m. to 8:00 p.m.
Tuesday: 10:00 a.m. to 8:00 p.m.
Wednesday: 10:00 a.m. to 8:00 p.m.
Thursday: 8:00 a.m. to 8:00 p.m.
Friday: 8:00 a.m. to 8:00 p.m.
Saturday: 8:00 a.m. to 8:00 p.m.
Sunday: 8:00 a.m. to 8:00 p.m.
Peel Regional Police - History
Peel Region is named for the father of modern policing, Sir Robert Peel (1788-1850). His belief was: "The police and community are one". His nine principles were:
The basic mission for which the police exist is to prevent crime and disorder.
The ability of the police to perform their duties is dependent upon public approval of police actions.
Police must secure the willing co-operation of the public in voluntary observance of the law to be able to secure and maintain the respect of the public.
The degree of co-operation of the public that can be secured diminishes proportionately to the necessity of the use of physical force.
Police seek and preserve public favour not by catering to public opinion but by constantly demonstrating absolute impartial service to the law.
Police use physical force to the extent necessary to secure observance of the law or to restore order only when the exercise of persuasion, advice and warning is found to be insufficient.
Police, at all times, should maintain a relationship with the public that gives reality to the historic tradition that the police are the public and the public are the police; the police being only members of the public who are paid to give full-time attention to duties which are incumbent on every citizen in the interests of community welfare and existence.
Police should always direct their action strictly towards their functions and never appear to usurp the powers of the judiciary.
The test of police efficiency is the absence of crime and disorder, not the visible evidence of police action in dealing with it.

(Sir Robert Peel's Nine Principles - Source: New Westminster Police)
Learn more about Sir Robert Peel. Visit Wikipedia.
Peel Regional Police (PRP) was established on January 1st 1974, upon the creation of the Regional Municipality of Peel. It incorporated the former police services of Mississauga, Port Credit, Streetsville, Brampton and Chinguacousy.
As of 2005, PRP is the second largest municipal police service in Ontario (trailing Toronto Police Service) and third largest in Canada. It serves around 1,000,000 citizens, and is made up of approximately 1,650 uniformed members, with close to 600 support staff.
In 1994, PRP was accredited by the Commission on Accreditation for Law Enforcement Agencies (CALEA) the first police service in Ontario to receive this distinction and only the fifth in Canada.
In 1995, PRP won the Webber Seavey Award for quality in law enforcement sponsored by the International Association of Chiefs of Police and Motorola. Also in 1995, it was awarded the Certificate of Merit by the National Quality Institute's (NQI) "Canada Awards of Excellence" program.
In 1997, PRP's Crime Prevention Services was honoured by the International Society of Crime Prevention Practitioners (ISCPP) with the Unit of the Year Award. In that same year, the Ontario Crime Commission recognized the success of the High Enforcement Action Team (Heat) unit. The special unit was setup to reduce the number of motor vehicle thefts.
In 1998, the American Society of Industrial Security (ASIS) did recognize PRP for its role in developing Chantel's Place, an innovative sexual assault and domestic violence suite, at Trillium Health Centre's Mississauga site.
2008 - Peel Regional Police gets high marks in National Study, ranking among the top law enforcement agencies in Canada. Read more...
PRP is acknowledged as one of Canada's most progressive police services. The hallmarks of Peel Regional Police are: a proactive approach to problem-solving, a dedication to professional excellence and a reputation for making the community a better place to live and work.
In: Wikipedia - The Free Encyclopedia
Ontario Police Memorial Foundation - Peel Regional Police Honour Roll - Those who lose their lives in the line of duty are heros in life, not death.
A Step Back in Time...
The image below shows the Police Building in 1968, located at the Confederation Square in Cooksville
Source: Mississauga Library System (www.mississauga.ca/historicimages)
---
---
Peel Regional Police Association
Banquet Hall
If you need to rent a facility for your meeting, seminar, family function, the Association has a Banquet Hall that may well suit your needs.
For detailed information, please follow the link below:
---
---
These are some awards that Crime Prevention Services of the Peel Regional Police has received:
2005 - International Society of Crime Prevention Practitioners Community Based Program Award.
2004 - Mississauga Board of Trade Police Service Award.
2003 - Ontario Crime Control Commission; Award of Excellence for Fighting Crime .
2002 - Ontario Crime Control Commission; Award for Excellence in Crime Control.
1999 - The Robert Boyne Memorial Crime Prevention Award, 1999.
1997 - International Association of Crime Prevention Practitioners (ISCPP); Unit of the Year.
1996 - Goldstein Excellence in Problem Solving.

Learn more about The Crime Prevention Academy, "An Exemplary Project".
Peel Police Committed to Excellence
---
PEEL REGIONAL POLICE
SAFE SCHOOL PROGRAM
"The Safe School Crime Stoppers Program is thriving throughout the Province of Ontario. In 1993, Peel Crime Stoppers established the first Safe School Crime Stoppers Program at Notre Dame Secondary School in Brampton. Since that time, hundreds of schools across the Province have followed Peel lead in establishing this very effective program. It subscribes to both a re-active and pro-active approach to promoting a safer school environment.
Peel Region how has a total of 45 high schools on line, including the University of Toronto at the Mississauga campus, with this safe school concept in place."
To learn more about this Program, How Does the Program Work and Who Runs it, please click here...
---
LAST DRINK PROGRAM
"When an arrest is made, it takes 4 to 5 hours to process an impaired driver and comprimises the ability of police offers to respond to other types of calls. Out of 1019 persons arrested for impaired driving, it has been estimated that nearly 46% had been drinking at a licensed premise. Peel Regional Police established a database of all licensed premises within the Region in which people had been drinking prior to their arrest for impaired driving. By analyzing this data, the police were able to identify the establishments, which continually posed a problem and take corrective measures.
The Last Drink program was established to allow the police and the Liquor Licence Board of Ontario (LLBO) to use their resources in the most efficient manner. The information provided to the LLBO by police makes it possible for their inspectors to target specific premises and provides details of all incidents involving a subject establishment for use in any subsequent judicial hearing. In 1994, 19 impaired drivers arrested advised that they had been drinking at one establishment. Through warning letters and site inspections this figure was reduced by 50% in 1995.
In addition to collecting data on 'Last Drink' establishments, Peel Regional Police continues to review data collected from impaired driving arrests, more recently examining street locations and intersections were impaired drivers have been arrested on an ongoing basis and directing R.I.D.E. programs and other enforcement into those locations. The results have produced at times, a reduction in overall traffic stops, but an increase in impaired driving apprehensions."
Source: Peel Regional Police
---
OPERATION LOOKOUT
How did the program start?
Operation Lookout was developed by CSSD/ADD– Against Drunk Driving with support from Peel Regional Police Services in 1992. The program was field tested in the Peel Region through the sponsorship of Goodyear Canada and St. Lawrence Cement.
An information campaign that included posters, wallet-size cards, banners, combined with media events, created an incentive for community participation. A result of the campaign saw the number of reports received by Peel Regional Police in 1993 increased by more than 43%. In 1994 the number was up by 75%. Within the first year of the program, the number of alcohol-related deaths resulting from traffic crashes went from 24% to 17%. The program has since spread to many communities across the country and has expanded to include watercrafts, off-road recreational vehicles and snowmobiles.
Source: Peel Regional Police
---
'TOYS FOR TOTS' CAMPAIGN
"The "Toys for Tots" was initiated in 1993 by the Peel Regional Police in partnership with the Salvation Army and Canadian Tire. During the months of November and December, off duty member of Peel Volunteer Police volunteer their time to collect cash, Canadian Tire Money and new unwrapped toys donated by the public which are used to purchase or give as Christmas gifts for many children in need."
Source: Peel Regional Police
Thanks to the efforts of our men and women in blue, in 2006 the campaign raised $610,566.00.
______________________________________________________________________
S.P.E.A.R. PROGRAM
Peel Regional Police works closely with the Peel District School Board and the Dufferin-Peel Catholic School Board to ensure that scholls in our Region are safe places.
The development of the SPEAR (School Police Emergency Action Response) Program began in 2004 and this is a program designed to provide police and other emergency services with correct information to assist in responding to school emergencies. Nowadays the program is being explanded to other schools and public sector facilities in the Region of Peel.
Peel Regional Police have shared the SPEAR Program with the RCMP and other police agencies throughout the country.
For more information, please contact Sgt. Taufic Saliba - Peel Regional Police Public Affairs Bureau at 905-453-2121 Ext.4030.
PRP - April 18, 2007
905-453-3311 - Ext. 4021
Emergency: 911
Non-Emergency: 905-453-3311
TDD: 905-451-1196

PEEL POLICE & COMMUNITY
WORKING TOGETHER

POLICE ALERT
(March 24, 2010)
(December21, 2009)
(December 7, 2009)
(October 26, 2009)
(October 21, 2009)
Catalytic Converters
"Try to park your vehicle in a safe and secure place, where a stranger with a saw would be instantly suspect. When possible, keep your car in the garage, instead".

MOST WANTED
Have you seen them?
Robbery Bureau


Get involved!
We can make a difference!

ON LINE PETITION FOR CANADA-WIDE HANDGUN BAN
PLEASE SPREAD THE NEWS
SAFETY TIP OF THE DAY
If you have a fireplace, woodstove or use gas logs/furnace, make sure you have an operable UL approved carbon monoxide detector.

STAY TUNED
Tuesday nights>7:30 pm
(First aired: July 9, 2009)
A partnership among Peel Regional Police, Rogers Television and other Police Agencies across the GTA, to make our Region a Safer Community. A show intended to engage the public to help the police apprehend suspects and criminals.
The Police Show, produced by the Peel Regional Police, is a weekly half-hour TV show featuring the latest news, as well as legal and crime prevention issues.
Stay Tuned. Visit Rogers Television for more information...
"Hands-Free" Law in full effect
You risk a $155 fine if caught dialing and driving. It's Ontario's law against using handheld devices like cellphones while driving.
Use voice mail and respond to the call at a safer time."
Remember, "You'll survive a missed phone call; you might not survive a collision!"
This safety tip was brought to you by
GRAFFITI
READ IT, RECORD IT, REPORT IT, REMOVE IT
If you see it in our neighbourhood, please let me know and I will take care of it. If you see graffiti in progress, please call 9-1-1.

You can also follow the link below to fill a
Graffiti Report and submit it on line
Do you have a PC at home? Did you know that only 28% of parents are aware that their children use Instant Messaging? Click on the logo below to learn more about this Internet 101 Tool Kit.

CAMPAIGN IN EFFECT
Pedestrian Safety
- I make eye contact with drivers
- I listen to what's around me
- I look left-right-left before crossing the street, and continue looking as I cross
Learn how to
SAFELY STORE AND TREAT WATER

Be prepared to be self-sufficient for at least 72 hours.
Know the risks / Make a plan / Prepare a kit
____________________________________________
Support our Troops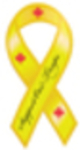 Gallery of our fallen soldiers in Afghanistan
Peel Regional Police pay tribute to our officers serving in Afghanistan
____________________________________________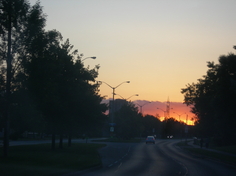 "What is life?
It is the flash of a firefly in the night. It is the breath of a buffalo in the wintertime. It is the little shadow which runs across the grass and loses itself in the sunset." Crowfoot
__________________________________
QUICK LINKS
Check your flight status

Calculator for anything & everything
Need a map? Google it or Bing it
Check out live highway traffic conditions in Toronto and Peel Region, courtesy of Ontario Ministry of Transportation highway cameras. Click here.
Drive Safely.
* KIJIJI - Canada's top free local classifieds site
__________________________________
Information on video
__________________________________
GIVING BACK
Raising money to help breast cancer patients
Be a life saver! Donate blood!
With one visit only, you can save three lives.

Somewhere... there's a child in need.

Please help saving a pet's life!