MY SILVER CREEK
Keep it Safe

GENERAL INFORMATION FOR NEW RESIDENTS
The information below is not related to the Neighbourhood Watch Program. However, it may help those who are new in the complex or new in the Region of Peel.
Other pages of interest:

OUR PROPERTY MANAGEMENT
This site is mainly focused on our Neighbourhood Watch Program. It has nothing to do with the Property Management and/or with the Board of Directors. If you live in the complex and if you have any issues other than those pertaining to the Neighbourhood Watch Program/safety around the complex, please contact the Property Management:
GSA Property Management Specialist
Office: 905-567-6820
Fax: 905-567-6930
Emergency and after hours: 905-567-6820
---
Garbage
Our regular garbage day is Wednesday and garbage should not be put outside before 7 p.m. on Tuesday. The limit is two bags. For safety reasons, do not include household hazardous waste such as syringes, paint, motor oil, propane tanks and batteries with your garbage. Empty containers or waste not collected must be removed from the curb by 7 p.m. the day of the collection. For more information, visit the Wasteline from Region of Peel or call 905-791-9499.
If you need to dispose of a large item such as a stove, washing machine, fridge, furnaces, bathtubs, hot water heaters or furniture, call the Region of Peel Wasteline at 905-791-9499 to arrange for a special pickup. For safety reasons, please remove the doors from your appliances. Arrangements must be made one week in advance, so that Waste Management can schedule the appliance pickup.
For more information about pick-up of large appliances and large metal items, please click here.
Recycling Program
According to the Region of Peel:
"As of March 13, you no longer need to sort your recyclable items. You can mix Blue Box and Grey Box items together in any recycling box or apartment recycling cart.
When you have more recyclable items than your recycling boxes can hold, you can place additional items in clear or transparent blue plastic bags. Place your bags on top of, or beside, your recycling boxes.
Important - The bag cannot be larger than 66 cm (26 in.) wide and 90 cm (36 in.) long, and cannot exceed 20 kg (44 lb.)
If you're not sure about what can and can't be recycled, just follow this link:
http://www.region.peel.on.ca/pw/waste/garb-recy/single-stream.htm
Confused about what can and cannot go on the Blue Box? Follow this link:
http://www.peelregion.ca/pw/waste/blue-box/index.htm
It will bring you to the Blue Box Recycling Database. Just type the name of an item, click on the SEARCH button and you will have the answer.
Need a recycling guide? Click here.
Green Bin
Please...
You may line your kitchen container with newspaper, paper bags or certified compostable plastic bags, or place your scraps in loose. As from October 1st, 2007 your compostable waste in your green bin won't be collected if it has any plastic bags.
Also, as from October 1st, 2007 the Region of Peel is moving from a three bag to a two bag standard for garbage collection.
Did you know?

In four months, the Region of Peel has collected more than 10,400 tonnes of organic material, producing almost 2,700 tonnes of finished compost, enough to cover 101 soccer fields with a half-inch layer.

Read more about:
- Converting Used Cooking Oil to Biodiesel Fuel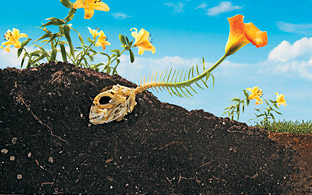 "Nothing is lost, nothing is created, all is transformed."
Lavoisier

Peel Organics Recycling Tips: No Plastic Please
The Region of Peel's new Organics Recycling Program is entering its third month with approximately 50 per cent of households participating in the program. The Region has collected more than 7,300 tonnes of organic material from residents, producing almost 1,900 tonnes of finished compost, enough to cover 71 soccer fields with a half-inch layer.
"The Region of Peel would like to thank its residents for participating in this important waste diversion program," says Councillor Elaine Moore, Chair of the Environment, Transportation and Planning Services Committee. "Household organic material makes up approximately 30 per cent of household garbage and we encourage all Peel households that receive curbside waste collection to participate in the program and help divert this material from disposal."
ORGANICS RECYCLING TIPS
Participating in the Organics Recycling Program is an easy way to do your part to help the environment. Organic material is the same waste you previously tossed away in the garbage; you are simply separating it into another container. The following tips will help you participate in the program:
NO PLASTICS PLEASE: The Region's Organics Recycling Program is not designed to screen out non-compostable plastic; therefore, items such as plastic grocery bags, food wrap, diapers and sanitary products are not permitted in the program as they contaminate finished compost.
Residents may line their containers with newspaper, paper bags or certified compostable plastic bags, available at hardware and grocery stores. Only certified compostable plastic bags with this logo are permitted in the program:
WRAP IT UP: Use newspaper to line your kitchen container and outdoor green bin. Or, place several sheets of newspaper on the counter, scrape your food waste onto the newspaper and wrap it into a small package before tossing it in your green bin. Newspaper absorbs excess moisture, minimizes odours and helps to cut down on liquid remnants that can accumulate in or around your containers.
GREEN BIN BARBEQUES: Green bins make barbeque clean-up easy – just toss all of your food waste, paper plates, napkins and paper towels straight into the green bin.
ANY AMOUNT WILL DO: Empty the contents of your kitchen container into your green bin frequently – every two to three days, or when it is full. Make sure you place your bin at the curb each week whether it is full or not.
A SPRINKLE A DAY KEEPS THE ODOURS AWAY: Sprinkle baking soda on your food scraps or mix it with water to form a cleaning paste to scrub and deodorize the green bin.
TAKE COVER: Store the green bin in the garage or outside, preferably in a shaded area.
WATER YOUR BIN: Regular rinsing of the kitchen container and green bin will cut down on odours and keep your bin looking like new. The indoor kitchen container can safely be washed in your dishwasher.
FREEZE IT: While it may not appeal to everyone, on extra hot days, residents with freezer space can store their well-wrapped organic waste in the deep freeze and place the frozen organics in their green bin on collection day. This will eliminate odours and keep pests at bay.
DON'T STOP BACKYARD COMPOSTING: Organics recycling complements backyard composting by taking items that cannot be added to backyard compost such as meat, bones and dairy products.
The Region of Peel provides waste management services in the Cities of Brampton and Mississauga and in the Town of Caledon.
For more information on these programs, call the Region of Peel at 905-791-9499 or in long-distance areas of Caledon call 905-584-2216, free of charge. Visit the Region of Peel website at peelregion.ca/waste.
Organics Recycling Program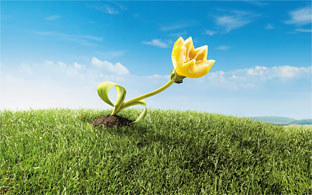 Our participation is easy and very important. We will help to divert organic material from the waste stream and will decrease Peel's dependency on landfill for disposal.
Participating in the program will help us reduce the amount of garbage that we set out at the curb each week for collection, and it will give our waste new life by creating a useful end product - compost.
Using the Kitchen Container
We'll receive a small beige container inside the green bin. We can line this kitchen container with newspaper, shredded paper, paper bags or certified compostable plastic bags. Non-compostable plastic bags, such as grocery bags and food wrap, are not permitted, since they contaminate finished compost. We can use certified compostable plastic bags available at most grocery and hardware stores. Look for this logo:
What goes in the Bin?
For a list of Acceptable and Not Acceptable things, please visit the Peel Region Website.
From Kitchen Container to Green Bin
- Once your beige kitchen container is full, empty the contents into the green bin.
- To avoid odours, rinse out the kitchen container and green bin on a regular basis.
- Store the green bin in the garage or outside (backyard), preferable in a shaded area.
Green Bin Collection
Green bins are collected every week. On Wednesday, take the green bin to the curb before 7 a.m. Keep the lid properly latched to prevent pests from getting in. The green bin is designed to be pest-proof when securely latched. Make sure you keep the bin latched and do not place it at the curb until the morning of the collection day. If your green bin is not full, you can top it up with acceptable yard waste.
The truck that collects the Blue Box recyclables will collect the Green Bin materials. However, Green bins containing unacceptable material will not be collected and you will be responsible for removing the unacceptable items from the bin. Non-organic material contaminates the final compost.
The End Product - Compost
The collected material will go to one of Peel's two composting facilities for processing. Organic material is shredded and put into large concrete tunnels for seven to ten days. This material is then transferred to an outdoor curing facility where it will stay for 30 to 45 days. Then, non-organic particles are removed to produce rich finished compost. This compost is safe to use on vegetable gardens, flowerbeds or as mulch.
Let's do our part. It is easy and we will be helping to divert 70% of waste from landfill by 2016.
Source: Region of Peel, Waste Management - Jan.13/2007
"The case for recycling is strong. The bottom line is clear. Recycling requires a trivial amount of our time. Recycling saves money and reduces pollution. Recycling creates more jobs than landfilling or incineration. And a largely ignored but very important consideration, recycling reduces our need to dump our garbage in someone else's backyard." -- David Morris
---
PET OWNER RESPONSIBILITIES
As a pet owner, you must abide by the City's bylaws. And since our Silver Creek is a Corporation, we have rules as well.
So, please don't forget the basics:
- Your dog must be leashed at all times, since the complex is not an unleashed area;
- You must clean up after your dog;
- Your pets must not cause a nuisance to the community.
- You must licence your dog.
- You must ensure your cat is identified either with a collar and tag, tattoo or microchip.
905-453-3311 - Ext. 4021
Emergency: 911
Non-Emergency: 905-453-3311
TDD: 905-451-1196

PEEL POLICE & COMMUNITY
WORKING TOGETHER

POLICE ALERT
(March 24, 2010)
(December21, 2009)
(December 7, 2009)
(October 26, 2009)
(October 21, 2009)
Catalytic Converters
"Try to park your vehicle in a safe and secure place, where a stranger with a saw would be instantly suspect. When possible, keep your car in the garage, instead".

MOST WANTED
Have you seen them?
Robbery Bureau


Get involved!
We can make a difference!

ON LINE PETITION FOR CANADA-WIDE HANDGUN BAN
PLEASE SPREAD THE NEWS
SAFETY TIP OF THE DAY
If you have a fireplace, woodstove or use gas logs/furnace, make sure you have an operable UL approved carbon monoxide detector.

STAY TUNED
Tuesday nights>7:30 pm
(First aired: July 9, 2009)
A partnership among Peel Regional Police, Rogers Television and other Police Agencies across the GTA, to make our Region a Safer Community. A show intended to engage the public to help the police apprehend suspects and criminals.
The Police Show, produced by the Peel Regional Police, is a weekly half-hour TV show featuring the latest news, as well as legal and crime prevention issues.
Stay Tuned. Visit Rogers Television for more information...
"Hands-Free" Law in full effect
You risk a $155 fine if caught dialing and driving. It's Ontario's law against using handheld devices like cellphones while driving.
Use voice mail and respond to the call at a safer time."
Remember, "You'll survive a missed phone call; you might not survive a collision!"
This safety tip was brought to you by
GRAFFITI
READ IT, RECORD IT, REPORT IT, REMOVE IT
If you see it in our neighbourhood, please let me know and I will take care of it. If you see graffiti in progress, please call 9-1-1.

You can also follow the link below to fill a
Graffiti Report and submit it on line
Do you have a PC at home? Did you know that only 28% of parents are aware that their children use Instant Messaging? Click on the logo below to learn more about this Internet 101 Tool Kit.

CAMPAIGN IN EFFECT
Pedestrian Safety
- I make eye contact with drivers
- I listen to what's around me
- I look left-right-left before crossing the street, and continue looking as I cross
Learn how to
SAFELY STORE AND TREAT WATER

Be prepared to be self-sufficient for at least 72 hours.
Know the risks / Make a plan / Prepare a kit
____________________________________________
Support our Troops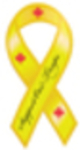 Gallery of our fallen soldiers in Afghanistan
Peel Regional Police pay tribute to our officers serving in Afghanistan
____________________________________________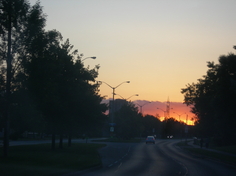 "What is life?
It is the flash of a firefly in the night. It is the breath of a buffalo in the wintertime. It is the little shadow which runs across the grass and loses itself in the sunset." Crowfoot
__________________________________
QUICK LINKS
Check your flight status

Calculator for anything & everything
Need a map? Google it or Bing it
Check out live highway traffic conditions in Toronto and Peel Region, courtesy of Ontario Ministry of Transportation highway cameras. Click here.
Drive Safely.
* KIJIJI - Canada's top free local classifieds site
__________________________________
Information on video
__________________________________
GIVING BACK
Raising money to help breast cancer patients
Be a life saver! Donate blood!
With one visit only, you can save three lives.

Somewhere... there's a child in need.

Please help saving a pet's life!